Highlights
Choose from mango chocolate, banana chocolate, banana caramel, crepe Suzette or mango tango variants
All crepes are made from scratch and are crafted thin
Uses fresh ingredients
The cafe also serves pasta, soup, pizza and decadent cakes with true Italian espresso
Fine Print
VOUCHER RULES
Valid from August 1 – October 1, 2014. Limit 1 voucher per visit. Valid for dine-in only; excess food may be taken out. Valid during holidays. May purchase and use multiple Groupons. DTI-NCR Permit No. 4311 Series of 2013.
See the rules
that apply to all deals.
REDEMPTION DETAILS
Printed voucher is strictly required upon redemption. May purchase and use multiple Groupons. Groupons may be redeemed at 59 Aguirre Ave BF Homes (beside Mulligans). Valid on: Tue-Sun 3:00PM-11:00PM. Reservation is required and is subject to availability; call 09163226808 1 day in advance. Walk-ins will be accommodated upon availability
Crepes are known for their original personalities and unparalleled nature...which explains why they often go unmatched through life in the world of desserts. So when you have a craving for the same, nothing else really compares.
Give into your discerning sweet tooth's demands with today's Groupon to Mattina Cafe.
THE DEAL
Offer 1: P175 (P354 value) for Choice of 2 Crepes
Offer 2: P250 (P531 value) for Choice of 3 Crepes
Offer 3: P319 (P708 value) for Choice of 4 Crepes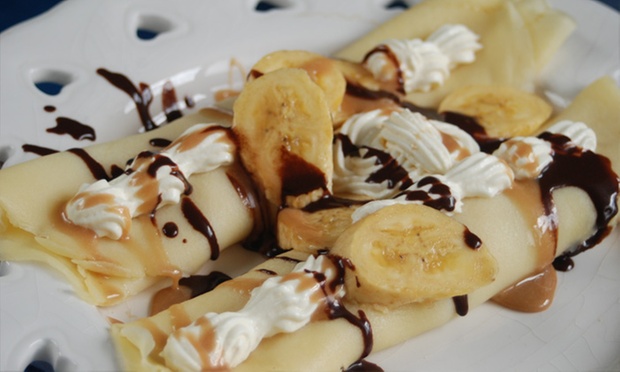 Today's Groupon entitles you to sample some of Mattina Cafe's famous, signature crepes. There's the Mango Chocolate Crepe (P189) which are thin crepes filled with fresh mango, topped with delicious chocolate ganache and crème Chantilly. The Mango Tango Crepe(P189) are filled with fresh mango slices and candied orange fruit, topped with orange and mango sauce, plus crème Chantilly. The Banana Chocolate Crepe (P169) is filled with bananas and topped with luscious chocolate ganache, and crème Chantilly; while the Banana Caramel Crepe (P169) is filled with slices of fresh banana, topped with delicious caramel sauce and crème Chantilly. Lastly, there's the Banana Peach Crepe(P169) which involves thin crepes filled with slices of fresh banana and peaches, topped with a choice of delicious caramel or chocolate ganache and crème Chantilly.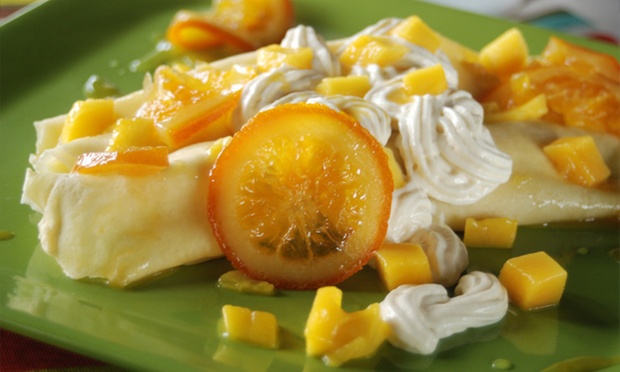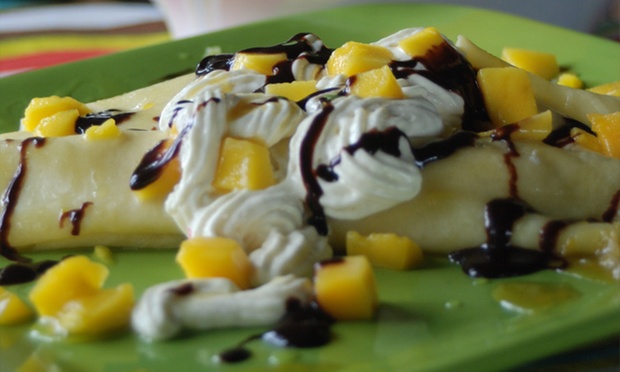 ABOUT THE MERCHANT
Mattina Cafe is one of the few places in the south offering peaceful respite from the frenzied urban agitation. This cafe offers signature creations spanning crepes, pasta, soup, pizza and decadent cakes, served with true Italian Espresso.
With a lush green front of cascading vines and lilac colored flowers, it's quaint interior of semi imperfect finish, makes this place distinct and interesting. It has a bakery corner showcasing inventive artisan breads, where customers can enjoy freshly baked bread with the soup of the day, or simply enjoy sandwiches of baguette and freshly baked bagels. The menu is unpretentious and yields to the demand of comfort dishes. With the owner's genuine intent to serve using only quality ingredients, classic culinary principle with an edgy touch is evident in their dishes.

Mattina Cafe
Mattina Cafe presented by Groupon Philippines