Highlights
Bikram Yoga is a sequence of 26 postures to be practiced in a specially heated studio (104F)
Was developed by Bikram Choudhury from Hatha Yoga
Each posture takes care of something different in the body, and yet they all work together synergistically, contributing to the success of every other one, and extending its benefits
Fine Print
VOUCHER RULES
Voucher is valid from September 19 to December 31, 2014. Sessions are not transferable and must be redeemed within validity period. For new clients only. Voucher is also valid on students who have not been back for 6 months. DTI-NCR Permit No. 4311 Series of 2013.
See the rules
that apply to all deals.
REDEMPTION DETAILS
Pull up Groupon with our mobile app (or print it out). Present Groupon upon arrival. Groupons maybe redeemed on the following branches :Bikram Yoga Greenhills and Bikram Yoga Tomas Morato only. No reservations required
Adopting exercises from other cultures can help shake up a workout, which explains the growing popularity of that sport in which Scottish guys throw logs. Speak the universal language—sweating—with this Groupon.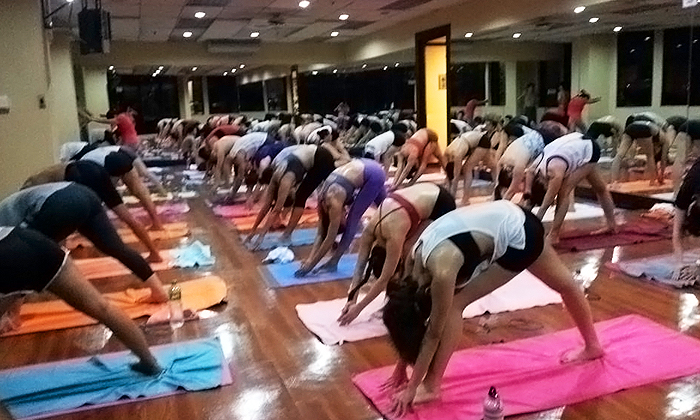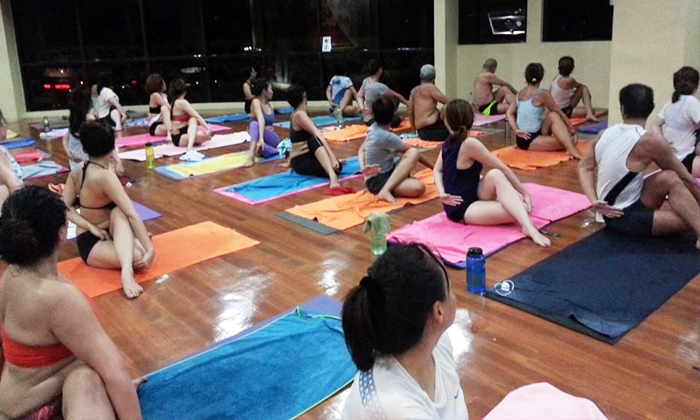 THE DEAL
Offer 1 valid at Greenhills: P499 (P1000 value) for 1 Week of Unlimited Bikram Yoga Sessions
Offer 2 valid at Tomas Morato: P499 (P1000 value) for 1 Week of Unlimited Bikram Yoga Sessions

Bikram Yoga is a demanding series of 26 postures and two breathing exercises. Each posture is sequenced specifically to work synergistically and cumulatively, strengthening every muscle, ligaments and joints in the body. Yoga builds strength, endurance and flexibility, balancing the body and mind, bringing the same practice even when you're outside the yoga room. Flexibility not required.
ABOUT THE MERCHANT

Bikram Yoga Manila is the first official Bikram Studio in the Philippines founded by Tristan Choa in Nov. 2005. It has two studios one in Makati and another in Tomas Morato, QC. The QC branch is now owned by Charleston Chua.
It offers yoga with a unique twist – stretching mixed with detoxification through heat. Enthusiasts practice 26 different poses in a 90-minute session in a classroom heated at an average of 38°C. The heat and humidity of the classroom play an integral role in the detoxification process of the body – toxins are released through sweat. While detoxifying, the practice also aims to further weight loss, prevent injury, and promote wellness to our body's organs.
Bikram Yoga Manila aims to provide a centralized bulletin board for all events and class times in the respective locations. In addition, they occasionally post motivational messages to keep you on the path of wellness.

Bikram Yoga
B
5th Floor, CKB Center, Tomas Morato, Corner Scout Rallos Quezon City 1103
Get Directions»
Bikram Yoga presented by Groupon Philippines