Highlights
Has a nautical ambiance
Sells fresh seafood
Serves rustic, fresh, non-pretentious food while offering a unique dining experience
Fresh local crabs and its preparations is one of the highlights
Has a foreign franchise appeal and feel
Fine Print
VOUCHER RULES
Valid from Valid from August 25 - October 25, 2014. Valid for 2 months. Limit 1 voucher per visit/transaction. Valid for dine in only; excess food may be taken out. Valid during holidays from 12:00PM - 5:00PM only. Excludes service charge. 2 vouchers can be used for group of 8-10. Soft drinks and beer not included. DTI-NCR Permit No. 4311 Series of 2013.
See the rules
that apply to all deals.
REDEMPTION DETAILS
Printed voucher is required upon redemption. May purchase multiple Groupons and give as gifts. Limit 1 Groupon per visit/transaction. Groupons may be redeemed at 252 Aguirre Ave. BF Homes, Paranaque.(in front of Songraan). Valid on: Monday to Sunday between 12:00 Noon - 11:00PM. Reservation is STRICTLY required and is subject to availability. Call 09369202747 / 7902917 / 09157784429, 1 day before. Provide name, contact no., security& voucher code & date of dine in upon reserving. Walk ins will be accommodated upon availability.
The best way to catch a fish is to think like a fish, which means fretting about how to put all 4,000 of your kids through fish college. Relax and let the whole school come to you instead with this Groupon.
THE DEAL
Offer 1: P299 (P600 value) for Food
Offer 2: P399 (P800 value) for Food
GROUPON MENU
Drinks list
Fresh Drinks in Carafe
Crabby Orange Iced Tea (P175)
Blue Sea Lemonade (P175)
Raspberry Citrus Cooler (P175)
Smoothies
Mango Pandan (P95)
Oreo Hazelnut (P95)
Can Soda
Coke (P50)
Coke Zero (P50)
Sprite (P50)
Bottled Water P30)
Cocktails and Beers
Cuba Libre (P110)
Blue Margarita (P115)
Sparkling Mimosa by Carafe (P475)
Sanmig Light and Pale Pilsen in Can (P55)
Step 1: Pick your Catch
Shrimp (P500)
Crab (P145 per 100g)
Local Mussels (P330)
Holy Crab! Catch (P650)
Step 2: Lay on the Sauces
Aye Caramba
Bali Coco
Garlicky - Lime and Salted Egg
Step 3: Pack the Heat
Grab Some Bait
Holy Calamari (P200)
Crisp Gambas Overload (P350)
Sizzling Salted Duck Egg and Grilled Pork (P220)
Homemade Bacalao and Kropoek (P185)
Pile it On
Bacalao Fried Rice (P190)
Garlic Overload rice (P190)
Plain Rice (P40)
Buttered Corn on Cob (P55)
Get Green
Stir Fried Kangkong with Garlic (P180)
Take a Shore Fire Hit
Pattaya Bay Fried Chicken (P260)
Grilled Pork with Homemade Liver Sauce (P190)
Clark Quay Crabs (P145)
Human Warf Tofu and Tausi Fish Fillet (P260)
Holy Sweets
Creamed Macapuno and Pandan Jelly (P96)
Crabby Island Coco Mango (P120)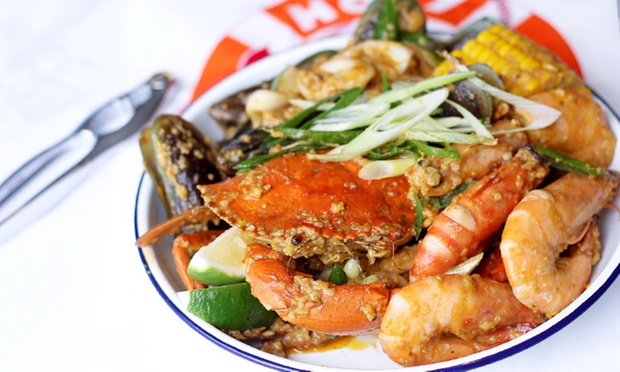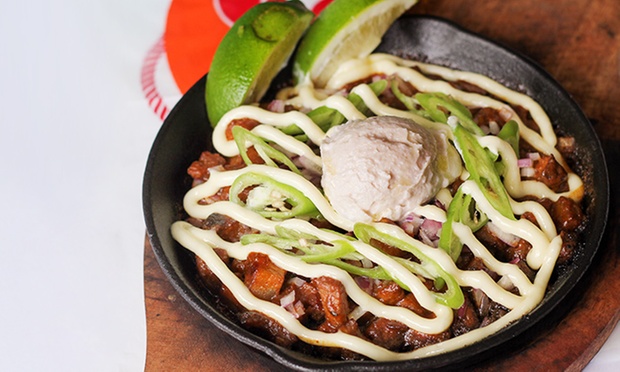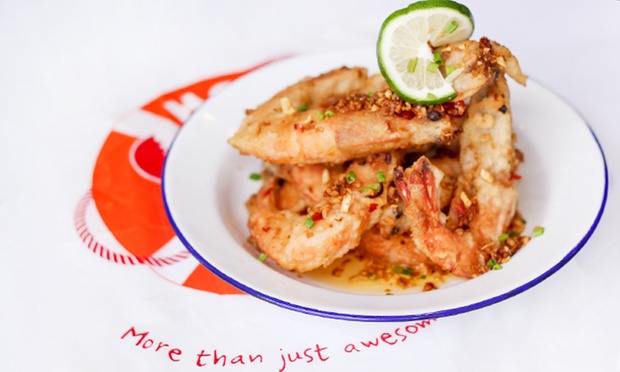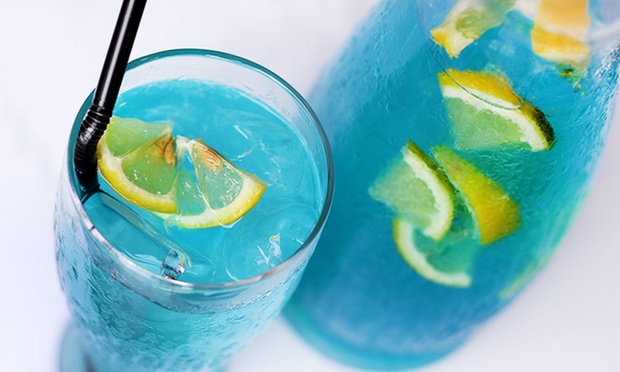 The Holy Crab! Catch is a Holy Moly mix of crab, shrimp, mussels squid and sweet corn. A bite of this dish and patrons soon find out why its named so… Adding to the line of holy dishes is the Holy Calamari, prepared tastefully and cannot be used to ward off vampires as it is not doused in holy water, as its name might misguide bystanders. The popular Filipino Sisig is made with grilled pork and sizzling salted duck egg. There are cocktails and beer available. For the sober drinkers there is a Crabby Orange Iced Tea to buzz on. The Holy Crab! has laid out the Holy Grail Steps on how to dine in: pick your catch, lay on the sauce, pack the heat, and get handsy!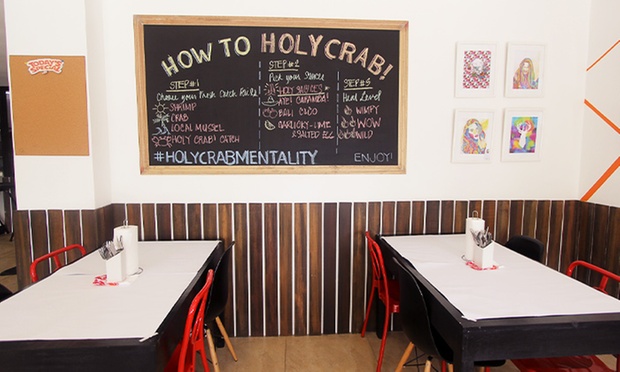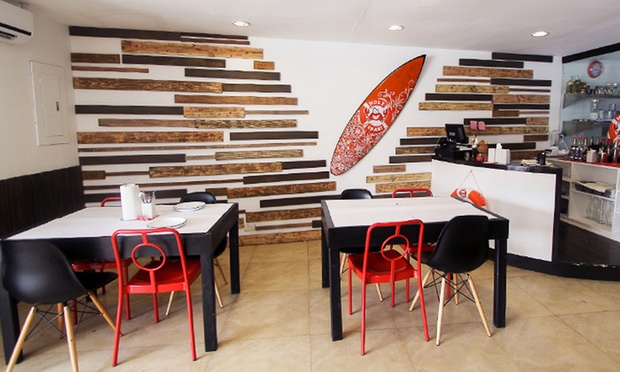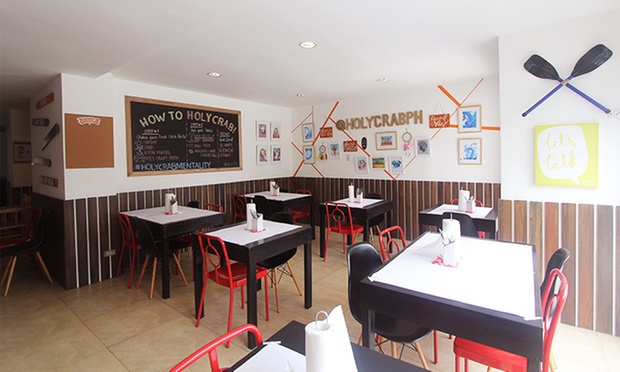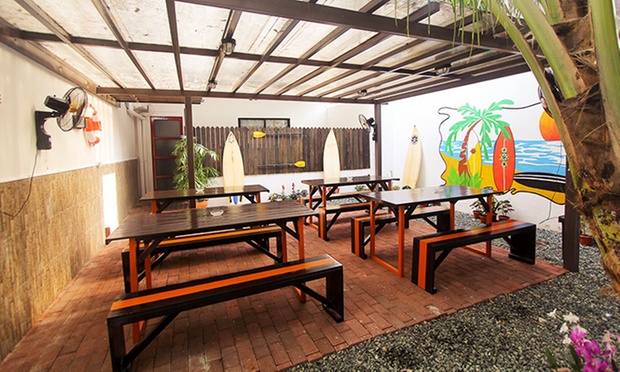 ABOUT THE MERCHANT
Located in Paranaque, Holy Crab! is a casual dining establishment offering freshest and best seafood , cooked & prepared live and within sight of customers. All crabs are sourced locally so that its fresh when even when served to customers.

Holy Crab!
Holy Crab! presented by Groupon Philippines