Highlights
A getaway to one of Palawan's most visited island - Coron
Choice of Coron town tour or island hopping tour
Package includes daily breakfast and round trip airport transfers included
Fine Print
IMPORTANT DATES
Travel period: October 15,, 2014 – December 31, 2014
Booking period: October 15 , 2014 - December 15, 2014.
Blackout dates: None. All reservations are subject to availability
RESTRICTIONS
Groupon is good for 1 person. Minimum 2 to book
Island hopping includes lunch and use of mask and snorkel
Reservations must be made at least 14 days prior to travel date
Accommodation in Coron is Diamond Lodge or Divine Castle, both newly built accommodations
All reservations are subject to availability
Guests who fail to show upon the scheduled reservation will render voucher invalid
No cash back or credit for any unused vouchers
Not valid in conjunction with other promo or discount (Senior Citizen, Gift Certificate, etc.)
For transferred/gift vouchers, the person liable for redeeming the voucher shall provide 2 valid IDs, one for the voucher holder (the one who bought the deal) and another one for the person redeeming.
HOW TO BOOK
Please call +632.475.8806/ +632.475.8807/ +63.906.900.3019/ +63.999.604.0017/ +63.923.288.0661 or email Shore2shore.mlaofc@gmail.com for inquiries and reservations.
You may also reach inquiries@groupon.com for questions about the deal.
DTI-NCR Permit No. 4311 Series of 2013.
See the rules that apply to all deals.
THE DEAL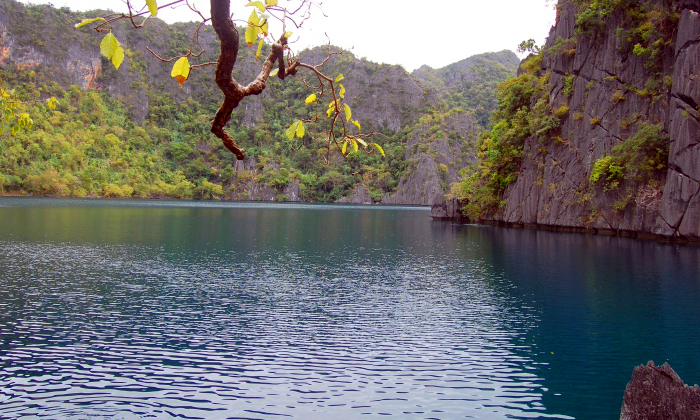 Offer 1: P3099 for 2N Package with Coron Town Tour for 1 Person
Offer 2: P3399 for 2N Package with Island Hopping and Lunch for 1 Person
Offer 3: P4899 for 2N Package with 1N at Balinsasayaw Resort and Coron Town Tour for 1 Person

OVERVIEW

With today's Groupon, vacationers are made to taste Coron, Palawan's la isla Bonita experience. Upon arrival at the airport, explorers are warmly welcomed by the island transfer crew and are shuttled to the hotel, located in Coron town proper, which is the center of all the best tourist destinations surrounding the area.
When the itch for the walk kicks in, the vacationers are turned into wanderers exploring the stunning sceneries of the island. The whole-day island tour consists of trekking and swimming at Kayangan Lake, snorkeling and admiring the different tints of the water world at Green Lagoon, flirting with sexy sea nymphs while coral-reef-watching and feeding hungry fishes at Twin Peak Reefs, CYC Beach, Atwayan Beach and Calachuchi Coral Gardens. The day tour is inclusive of a lunch meal to avoid incessant piranha-nibbling. For the other days of the vacation, Groupon holders may also visit other scenic attractions and engage in different activities that could be done in Coron like Mt. Tapyas climbing and trekking, hot bath at Manquinit Hot Springs, taking a walk in the Lualhati Park / Baywalk area, buying tasty cashew nuts at the Cashew Nut Producer and souvenirs at the market.

Shore 2 Shore Travel Services
Shore 2 Shore Travel Services presented by Groupon Philippines