Highlights
Opt for a tour of Shenzhen and a city tour including visits to Avenue of the Stars, the mid-level vistas of Victoria Peak, Aberdeen Fishing Village, and more.
Encounter various marine wildlife and take on the thrill of amusement park rides within Ocean Park.
Enjoy the rides, revisit childhood character favorites, and traverse the fantastical avenues of Disneyland Hong Kong, nominated among TripAdvisor's Top Amusement Parks in China.
Fine Print
WHAT YOU GET
3D2N stay in Standard Room at Rambler Oasis Hotel, 1 Tsing Yi Rd, Tsing Yi, Hong Kong.
Return airport transfer.
Daily Breakfast at Cafe de Coral.
Choice of Free and Easy package, Macau, Ocean Park, or Disneyland tour.
Choice of Free and Easy package includes a non-compulsory half-day city tour and free 1-day Shenzhen tour with free visa processing, lunch, and two way train tickets.
IMPORTANT DATES
Travel period: July 10, 2015 – September 30, 2015.
Booking period: June 27, 2015 – September 10, 2015.
RESTRICTIONS
Groupon is valid for 1 person.
Reservation must be finalized at least 5 weeks before travel date. Once finalized, this is non rebookable, non refundable, and non transferrable.
Voucher is transferrable and can be given as a gift to family and friends.
Please call or email Hearty Travel and Tours before purchasing the vouchers to determine availability of rooms.
Reservation is subject to availability.
The Hong Kong city tour (for Free and Easy package) is non-compulsory. For the Hong Kong with Macau or Ocean Park or Disneyland packages, the city tour is compulsory in order to be able to avail of any one of these three tours.
Purchase must be made for a minimum of two or three vouchers.
Guest who fail to show upon the scheduled reservation will render the voucher invalid.
The Macau tour ends at the Venetian, where guest can spend some time there, take the hotel's free shuttle going to the ferry terminal, purchase own ferry ticket and return to HKG hotel on their own.
Transfer from airport to hotel starts at 9.30pm to 10pm daily. Should the guest arrive after 10pm, he is advised to arrange for his own transfer and there will be no refund for the unused transfer cost.
For those who will avail of the free Shenzhen city tour included in the Free and Easy package, the transfer from the train station to hotel is at the guest's own arrangement.
Please call Hearty Travel and Tours for the rate for additional nights stay, and also the cost of the upgrade to other hotels. Heart Travel and Tours is not responsible for any force majeure that will affect the hotel stay. If there are cancelled flights, the guest is advised to take the next available later flight on the same day, or the one night stay is forfeited (if he does not arrive on the same day).
Not valid in conjunction with other promo or discount (Senior Citizen, Gift Certificate, etc.).
For transferred/gift vouchers, the person liable for redeeming the voucher shall provide 2 valid IDs, one for the voucher holder (the one who bought the deal) and another one for the person redeeming.
ADD-ONS AND SURCHARGES
Upgrade to SilkaWest Kowloon, Silka Far East, and Regal Oriental Hotel with hotel breakfast and free Wi-F for a minimal additional amount.
Mandatory tipping of HKD50 each after the Hong Kong and Macau city tours to be given to guide / driver.
If guest prefers hotels other than Ramble Oasis, there is a weekend (Friday and Saturday) surcharge of P900 per room per night and peak days surcharge (September 8 - September 12, September 16 - September 19) of P2600 per room per night. Only outside breakfast is applicable.
Surcharge for non-Philippines passport holders for stay at Rambler Oasis Hotel is P1800 per room per night.
Triple sharing indicated in this deal means that there are 3 people in the room, but the third person will not have an extra bed, in order to lower the cost per person. If with extra bed, the rate is as the twin sharing rate.
HOW TO BOOK
Reservation is advised upon purchase of Groupon vouchers. Please email Groupon codes and security codes and flight itinerary to Hearty Travel.
For reservation, please call +632.354.6035 / +632.400.0716 / +63915.258.4752 / +63915.442.7089. or email heartytravelandtours@ymail.com.
Reservation requirements:
- Complete name
- Voucher code
- Security code
- Attached Groupon
- Contact number
- Preferred travel date
Please email the scanned passport copies, flight itinerary and the Groupon vouchers.
You may also email inquiries@groupon.com for questions about the deal.
DTI-FTEB SPD Permit No. 4904 Series of 2014.
See the rules that apply to all deals.
The deal
Twin-sharing room (minimum 2 Groupons to go)
3D2N stay for 1 with optional city tour and tour of Shenzhen for P4988 (up to P9100 value)
3D2N stay for 1 with tour of Macau or Ocean Park for P6399 (up to P10000 value)
3D2N stay for 1 with admission to Disneyland Hong Kong for P7799 (up to P10900 value)
Triple-sharing room (minimum 3 Groupons to go)
3D2N stay for 1 with optional city tour and tour of Shenzhen for P3988 (up to P9100 value)
3D2N stay for 1 with tour of Macau or Ocean Park for P5488 (up to P10000 value)
3D2N stay for 1 with admission to Disneyland Hong Kong for P6688 (up to P10900 value)
Itinerary
Day 1
Arrive at Hong Kong
Transfer and check-in at hotel
Free and easy
Day 2
Breakfast
Proceed to tour of choice:

Optional city tour and Shenzhen tour: Avenue of the Stars, Aberdeen Fishing Village, Victoria Peak Mid-Level, jewelry factory and souvenir outlet. Dismissal at Tsim Sha Tsui and return to hotel by own means.
Macau tour: Kum Lam Statue, Ruins of St. Paul, Fisherman's Wharf, local cake shop visit, and The Venetian. Includes one-way ferry ticket - return to hotel by own means.
Disneyland Hong Kong and Ocean Park tours: Includes return transfers, admission tickets, and unlimited access to rides.
Day 3
Breakfast
Free and easy
Check-out and transfer to the airport
The experience
Traverse into the breadth of Hong Kong and Macau's inner ambit of attractions as an amalgam of paths come for your picking, offering a chance to either grow accustomed to the local landscapes or just seek an escape in the rush of towering rides and novel experiences amidst curious wildlife.
City tour and Shenzhen tour
Have jaunts directed into a trip close to the Salisbury Garden and along the Tsim Sha Tsui Waterfront Promenade as you enter the Avenue of Stars, an outdoor exhibition structured in commemoration of Hong Kong's film industry's stalwarts and superstars. Together with a vast vista of the Hong Kong city skyline as the backdrop to the open-air gallery, guests can catch glimpses of familiar figures, including that of Bruce Lee's - immortalized against a scenery of the harbor.
Similar to a journey into the regression of modern times, the hearth of Aberdeen Fishing Village tends to serve as a reminder of simpler days as the sights of lumbering junks and the occasional sampan dot the scenery. Despite its past as a pirate's den, the waterfront hub now houses a picturesque array of yachts, ships, and an abundance of houseboats in which most fishing families still reside, sustaining on a livelihood of maritime craftsmanship and the harbor front charm.
Escape the bustle of the city and seek solace in proximity to the skyline with an ascent up Victoria Peak, where the mid-level vantage point offers sweeping views of the city below, abundant in high-rise buildings and a busy scenery of metropolitan life contrasted by the seemingly improbably juxtaposition of forested summits in the background.
Macau tour
Mark the visit to Macau with a stop at the Kun Lam Temple, demarcated with a lofty representation of the Goddess of Mercy, illuminated by sunlight in its perching atop the temple's dome. Dating back to the 1400's the temple's positioning marks an establishment that precedes Macau's colonial Portuguese days, as the numerous halls within house long-held tributes to Sakmayuni - including a trifecta of bronze Buddhas as well as a hallowed bell that has resided here for over 300 years.
Continue the journey into Macau with a trip to the site of the Ruins of St. Paul, a suspended facade of what was once a church erected during the island district's Portuguese colonial reign. What currently stands is a solitary entrance, adorned in Baroque charm and supported by a rear addition of steps for visitors to ascend, granting climbers an elevated view of the surrounding city as well as a closer look at the intricate carvings immortalized along the facade's nooks.
Ocean Park
Housing a myriad of maritime attractions, Ocean Park presents a wealth of fun and enjoyment alongside wet wildlife as various rides come rushing into view - sporting a menagerie of roller coasters, raging river rushes, bumper cars, and vertigo-inducing pendulum rides, among others. Officially opened in 1977, the park now comes with international accreditation with the bestowing of the prestigious Applause Award in recognition of its novelty and vast growth.
Included in the sizable expansion of the park is the addition of animal adventures within its vicinity, with grounds housing the likes of pandas, alligators, otters, and an orchestra of colorful birds, as well as an aquatic gallery teeming with luminous jellyfish, lively dolphin, and the adorable seal, among others.
Disneyland Hong Kong
Waltz into a fairy-tale collection of scenes and attractions sprinkled with fond childhood memories and cartoon liveliness as the inner sanctum of Disneyland Hong Kong comprises seven districts - each accorded its own theme and overarching character. Adventureland comes draped in the greenery of the outdoors as rides bring guests along tropical river cruises and a visit into jungle territory with sights of Tarzan's Treehouse dotting the landscape. For those seeking respite from the great outdoors, a jaunt into Fantasyland would tickle the fancy of eager tykes and adults forever enamored with the fantastical imagery of Disney's animated annals as guests can take a whirl in Mad Hatter's revolving Tea Cups, or take flight on the back of Dumbo the flying elephant, and explore Sleeping Beauty's Castle, among others. Meanwhile, Grizzly Gulch sees adventures take a turn into Wild West territory while Tomorrowland sports a spectral collection of futuristic rides and neon-tinged escapades within its planetary themed vicinity. Along with an assortment of various other sections, the vast ambit of attractions within Disneyland caters to children and the young at heart alike, while gift shops abound offering mementos and pieces of the park's charm to be cherished upon home-bound journeys.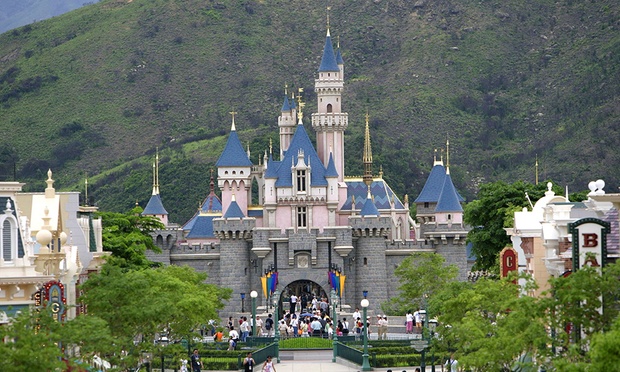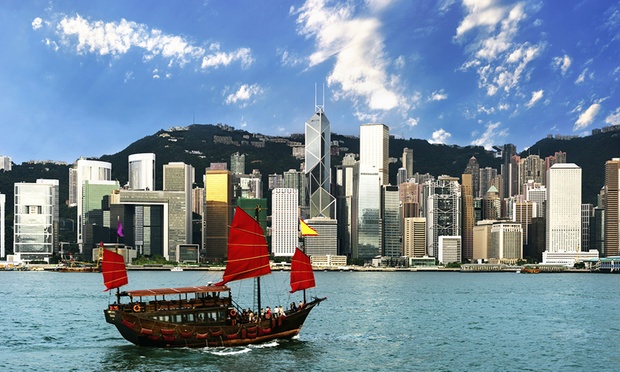 Hearty Travel & Tours
Hearty Travel & Tours presented by Groupon Philippines