Highlights
1-Day Recharge Program Kit is intended for people who are new to juicing
The set of juices are gentle on your system but still cleanse your body from toxins and free radicals
No sugar and water added and definitely no preservatives added, just pure juice of the organic fruits and vegetables
Benefits: Better digestion, lighter feeling, weight loss, more energy and vitality, regular bowel movements, healthier body, glowing skin and enhanced immunity
The program consists of 7 bottles of 260ml great tasting organic juice, 2 detox teas and a thermal bag
Fine Print
VOUCHER RULES
Valid from September 26 - December 26, 2014. Maximum of 2 vouchers per person within validity period. Voucher is valid for 1 day recharge program. Voucher Strictly no refunds 7 days after purchase. DTI-NCR Permit No. 4311 Series of 2013.
See the rules
that apply to all deals.
REDEMPTION DETAILS
Print Groupon (or pull it up with our mobile app). Printed voucher is required upon redemption. Groupons may be redeemed at branch indicated on the voucher. Valid on: Monday- Saturday, 9:00AM - 9:00PM. Reservation is required and is subject to availability; call 3 days in advance: +639065085064/ +639424881588. Walk-ins will not be accommodated.
A juicy piece of gossip should be shared with caution, as it may increase levels of vitamin c-u-l8a. Avoid the squeeze with today's Groupon distributed by Juicyfied Healthy Cafe.
THE DEAL
Offer 1: P780 (P1200 value) for 1 Kit of One-Day Recharge Program
Offer 2: P1560 (P2400 value) for 2 Kits of One-Day Recharge Program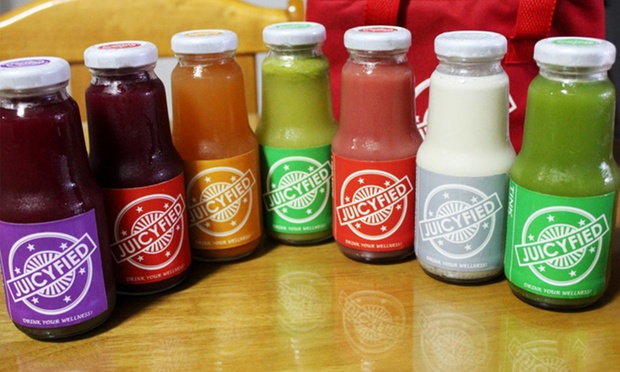 For juice cleanse virgins who are determined to turn your health around, the 1-Day Recharge Program Kit is the ideal start-up program. These juices are power-packed with nothing but naturally cold-pressed fruits to create a great tasting juice that will detoxify your body from free radicals, toxins, and chemicals, and at the same time provide your body with the right nutrients, minerals and enzymes and antioxidants that the body needs to function properly. The set of juices are gentle on your system but still cleanse your body from toxins and free radicals.
The program consists of 7 bottles of 260ml great tasting organic juice, 2 detox teas and a thermal bag. With no sugar, water or preservatives added, you get the wholesome goodness of pure juice blended from organic fruits and vegetables.
Unlike medicated pills and syrups, these cleansing drinks possess no artificial sweeteners and preservatives, yet still taste as great as regular juice - which all make your juicing diet a fun and motivating exercise. Truly it's the easiest and most fuss-free way for your body to take in all the phytonutrients, vitamins, minerals and disease-fighting oxidants you'll need in just a few delicious swigs.
ABOUT THE MERCHANT
Juicyfied started as an online home-based juicing business offering cold-pressed, appetizing juices help detoxify your body from free radicals, toxins, and chemicals while providing your body with the right nutrients, minerals and enzymes and antioxidants for proper bodily functions. Skilled juice makers at Juicyfied use only high-end masticating juicers to ensure you will get the maximum amount of nutrients that is present in the fruits and vegetables. They also serve healthy low-calorie meals and currently offer 3 juice cleansing programs: 1-Day Recharge, 2-Day Power-Up and 3-Day Reboot.

Juicyfied Healthy Cafe
A
Unit 10 TAA Center Building, F. Cabahug Street (Near Castle Peak) Cebu City 6000
Get Directions»
Juicyfied Healthy Cafe presented by Groupon Philippines